If you're not a major fan, you might be unaware that Demi Lovato kicked off her Tell Me You Love Me Tour on February 26th in San Diego, accompanied by DJ Khaled and Kehlani. Seeing as I've been excited about it since I bought the pre-sale, I wanted to take you along with me. However, your girl got stuck home with Strep throat. I had this whole thing planned with pictures and Videos from the concert, my outfit, makeup, even nails. But that wasn't in the cards so....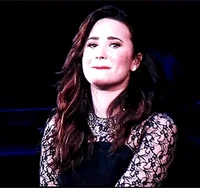 If I remember correctly it was Tuesday morning, I woke up with a sore throat. I did not have the time to think about it because I missed my second alarm (or I turned it off, I'm really not sure) and ended up waking up to a vague notification sound at like 8:30am. I was too busy freaking out that I would be late for work I paid no mind to pain. Fast forward, somewhere along the line I start getting really cold and feverish but I get through my shift. Long story short, I called in sick Wednesday and Friday; I attempted to go to work Thursday, it was rough to say the least; and on both days I called in, I went to the walk in clinic closest to my apartment. Both times the doctor had left for the day.
I haven't dealt with a sore throat since my childhood so the protocol on the whole thing was lost to me, so I went to the internet. Basically I knew I needed antibiotics but needed to see a doctor to get them, but I wasn't having any luck with that either so. Sunday I go to work, I push through. I don't feel like absolute hell, but I would have preferred being able to swallow without struggling. Monday rolls in, day of the concert (March 19) and I go to a different walk in clinic. Low and behold a well functioning establishment has multiple doctors on duty. I was in and out of there in fifteen minutes. It was amazing. The doctor was sweet, she gave me my prescription and on my way out I ask if I'm good to go to work and everything, and the words still haunt me, "Well you're still contagious. I suggest being on the antibiotics for at least 24 hours before that."
My heart broke. I could not go knowing I could very well get a bunch of people sick, and let me tell you I reeeeeaaaaally considered how likely the possibilities were for me to actually get someone sick, but strep is airborne and a concert is probably the worst place to go when you're contagious. I stayed home and wallowed in a Netflix binge and took a nap.
Not all is lost though, because the song did inspire some writing. It's not really original, I pretty much took from the lyrics of the song and the music video and ended up with this little thing.
Thank you for bearing with me through this. If you read my little snippet, please let me know what you think. Oh, and what was your almost great experience that the universe decided was not in the cards for you?
PS: If you are on mobile, I apologize. It seems that the gifs do not want to be a part of the show. However, if you click on the slightly larger punctuations that should link you to the images.